Council Update on the Children and Family Justice Center
Dear Neighbor,


Yesterday, the King County Council voted unanimously to replace King County's aging and decrepit youth detention facility. The new facility was approved by voters in 2012 and will include new courtrooms, a new alternative school and access to services for youth and families involved in the court system.

The adopted legislation includes my amendment to increase transparency and oversight to ensure the builder's compliance with the County's apprenticeship policies. These policies target local workers who need opportunities for family wage careers.

The need for the facility is clear:

• State law requires the county to operate a juvenile detention center for violent youth.
• Detained youth are currently housed in a concrete and metal structure with water-stained ceilings and leaking windows.
• The voter approved funds can only be used to replace the current facility.
• The majority of youth held in detention have committed serious crimes against people or property. Youth are not held for simply shop lifting or skipping school.

King County now has one of the lowest juvenile incarceration rates of any large county in the nation. The incarceration rate of juveniles in the current facility has dropped over the past decade from an average daily population peak of nearly 200 kids to the low 60s.

King County has employed many strategies to reduce the number of incarcerated juveniles in our community. These include the Juvenile Detention Alternatives Initiative which has reduced the reliance on detention, freed resources for the development of more effective alternatives, and improved the overall efficiency of local juvenile justice systems.

Furthermore, King County has implemented evidence based programs that are successful alternatives to incarceration and address racial disproportionality in the juvenile justice system. These programs include Juvenile Drug Court, Aggression Replacement Training, Functional Family Therapy, Multi-Systemic Therapy, Family Integrated Transition, YMCA's Parent Youth Connections Seminar, Reclaiming Futures and other promising programs.

We will continue to develop and utilize strategies to reduce juvenile incarceration rates and address racial disparities.

I'd appreciate hearing your thoughts on this or any other issue facing our community.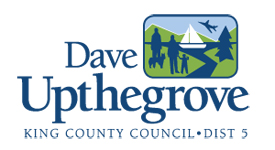 Sincerely,
Dave
Dave Upthegrove
Councilmember, District 5
Metropolitan King County Council
516 Third Ave, Suite 1200
Seattle, WA 98104
(206) 477-1005
www.kingcounty.gov/upthegrove