June Warm Weather Highlights
Dear Neighbor,

With summer just around the corner, I wanted to update you about happenings at the King County Council and events in our communities.

Local Groups Receive 'Retired' Metro Van
April 30th van delivery to SW Youth and Family Services
Each year, the King County Council donates vans from Metro's Vanpool to local cities and nonprofit organizations to provide transportation for low-income, elderly, youth and disabled residents. The vans are part of a fleet of county vehicles that have been 'retired' after exceeding a certain number of miles.

I had the opportunity this spring to deliver vans to three local groups selected for the great work they are doing in the community: SW Youth and Family Services New Futures Community Center in SeaTac, the Community Network Council in Kent and the City of Renton Community Services Department. These vans will be used to get kids to and from after school activities, transport seniors to the services they need and help families access community events.

Metro to Debut new Burien Shuttle Service on June 8th
New Burien shuttle ready for service beginning June 8th
A new shuttle service (Route 631) launches in Burien on June 8th, restoring weekday service previously provided by Route 139. Route 631 will connect Gregory Heights and Seahurst to critical places like the city's downtown area, Burien Transit Center and Highline Medical Center. It also will offer flexible service in the Gregory Heights neighborhood.

Route 631 is the outcome of community input and a partnership between the city of Burien and Metro. Hopelink will operate the shuttle under contract. More information about this new community shuttle is available on Metro's website.

Des Moines Waterfront Farmers Market to Start Tenth Season on June 6th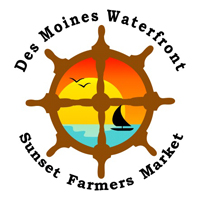 The Des Moines Waterfront Farmers Market begins its tenth season this Saturday, June 6th. The market, located at the Des Moines Marina, will be open Saturdays through October from 10:00am-2:00pm. Additionally, a sunset market will be offered on Wednesdays in July and August from 3:00-7:00pm, followed by the Art Commission's Free Summer Concert Series at nearby Beach Park. The sunset market will be located at the north end of the marina parking lot with available shuttle service.

Also this season, Des Moines locally owned and operated businesses may apply for a free booth space for one market day that includes a canopy, table and chairs. Applications are available on the market's website, as well as information about additional events.

Please don't hesitate to contact me with any questions or concerns on County issues, and stay tuned for our upcoming district summer activities newsletter.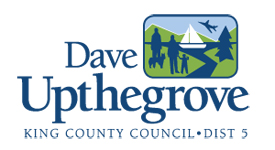 Sincerely,
Dave
Dave Upthegrove
Councilmember, District 5
Metropolitan King County Council
516 Third Ave, Suite 1200
Seattle, WA 98104
(206) 477-1005
www.kingcounty.gov/upthegrove