September Community Update
Dear Friends,

With fall fast approaching, I wanted to provide you with information about upcoming community events, as well as update you on county efforts to support our senior neighbors.

Area Plan on Aging Update
In King County, 17 percent of the population is age 60 or older. This population is expected to grow to nearly 25 percent by 2040. As the chair of the Health, Housing and Human Services committee, I requested a briefing on how we are meeting the challenges and opportunities for older people and adults with disabilities throughout King County.

A lot of work is done with the Area Agency on Aging for King County. Every four years, they develop a four-year plan as a guide to promote a quality of life, independence and choice for seniors in our communities. The plan for 2016-2019 will be finalized in the upcoming months. In the meantime, you can find a wide range of services and programs that serve this population through their website at www.agingkingcounty.org.

We are fortunate that South King County boasts excellent senior centers that provide high quality services, programs and activities. You can find out more information about these centers and programs here:

· Renton Senior Activity Center
· SeaTac Senior Program
· Kent Senior Activity Center
· Des Moines and Normandy Park Senior Center
· Burien Programs for 50+
· Tukwila Senior Program


Community Events

Though summer is winding down, there are still a number of fun outdoor events and activities happening in our communities. Event details are listed below.

Burien Farmers Market
Thursdays through October 22nd from 11:00am-6:00pm at Burien Town Square Park (480 SW 152nd Street).

Des Moines Waterfront Farmers Market
Saturdays through October from 10:00am-2:00pm at the Des Moines Marina (22307 Dock Ave South). A senior and disabled shuttle service is available with 72-hour notice by contacting (206) 727-6262.

Kent Farmers Market
Saturdays through September from 9:00am-2:00pm at Town Square Plaza (2nd Avenue and Smith Street, located next to the Kent Library).

Renton Farmers Market
Tuesdays through September from 3:00pm-7:00pm at Piazza Park (233 Burnett Avenue South).

SeaTac International Festival
September 12th-13th at Angle Lake Park (19408 International Boulevard). Highlights include a variety of ethnic and cultural performances, arts and craft booths, food vendors and a children's play area. Visit the festival website for more information.

Additionally, if there are community events you would like to see added to our district website, or if you have questions on a county issue, please let me know by contacting my office at (206) 477-1005 or dave.upthegrove@kingcounty.gov.

Thank you for your time and feedback.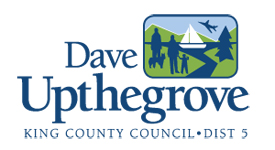 Sincerely,
Dave
Dave Upthegrove
Councilmember, District 5
Metropolitan King County Council
516 Third Ave, Suite 1200
Seattle, WA 98104
(206) 477-1005
www.kingcounty.gov/upthegrove