Greenbridge clinic to remain open!
Dear Neighbor,

I am excited to report that White Center's Greenbridge public health clinic will remain open.

Today Executive Constantine, Council Budget Chair Joe McDermott, and Mayor Ed Murray announced a new partnership between King County, the City of Seattle and Planned Parenthood to continue clinic operations at Greenbridge.

Public Heath-Seattle & King County is facing a $30 million budget shortfall for the 2015-2016 budget due to declining revenues and shifts in federal policies. With few good options left, Public Health proposed to balance the budget by slashing services and closing five public health clinics.

To me, the most distressing part of the proposal was closing White Center's Greenbridge Clinic. The Greenbridge clinic serves some of King County's most diverse and economically disadvantaged communities including White Center, Burien, Des Moines and SeaTac. Greenbridge offers maternity support services to 3,500 clients, family planning services to 2,087 clients and special supplemental nutrition for Women Infants and Children (WIC) to 3,000 clients. Under the original proposal, these services would have been eliminated forcing thousands of families in South King County to either go without care or attempt to find similar care from struggling non-profit providers.

I joined our community in speaking up – expressing my opposition to the original plan to Executive Constantine and am impressed with the response.

Under the new proposal, the City of Seattle will provide $400,000 to maintain WIC and maternity support services at Greenbridge while Planned Parenthood will provide family planning services. The County will work to keep the cost of service delivery down and continue to cover the operating costs of the facility.

Dow, Joe and Ed deserve a huge thank you from all of us for ensuring that South King County is treated fairly and that our most vulnerable neighbors receive the care they need.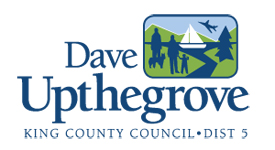 Sincerely,
Dave
Dave Upthegrove
Councilmember, District 5
Metropolitan King County Council
516 Third Ave, Suite 1200
Seattle, WA 98104
(206) 477-1005
www.kingcounty.gov/upthegrove