Metro Transit Update
Dear Neighbor,

Good news for South County commuters and businesses -- my plan to shelve the February bus cuts is in place.

In my new role as chair of the panel responsible for Metro's budget, I am taking a close look at the funds and policies that make up Metro's $2 billion budget.

After analyzing Metro's proposed budget for 2015/2016, I determined that sufficient funding exists to keep Metro transit service running at current levels. After coming to this conclusion, I immediately contacted my colleagues to share my analysis and within 72 hours successfully executed a plan to halt the February cuts and to take a closer look at Metro's financial policies. (More information is covered by the Seattle Times article here.)

Two major changes in Metro's financial position led me to this conclusion: 1) Metro's sale tax forecast for 2015/2016 is nearly $70 million higher than originally forecasted; and 2) Metro has scrubbed over $120 million from its 2015/2016 budget. In addition, a panel of nationally recognized transit leaders suggested more cost saving measures. Using this extra revenue and budget savings to fund service means that the following South County routes will not be cut as originally planned for February 2015:
158 and 159 (Covington through Kent and Des Moines to Seattle)
178 and 179 (Federal Way to Midway on to Seattle)
190 and 192 (Star Lake through Des Moines to Seattle)
Community Shuttle Service for Burien

Good news in February should not overshadow the fact that Metro just made its largest cuts ever to bus service including Burien's Route 139. While I don't believe a full restoration of Route 139 is possible at this time, I am happy to report that the proposed county budget includes $3 million per year to help communities like Burien provide regular shuttle service in lieu of fixed routes. I am working with Metro, Burien and local businesses to ensure that Seahurst and Gregory Heights residents can get to Highline Hospital and Burien's growing downtown business core.
Shopper Shuttle Saved in Kent!

Kent's Shopper Shuttle offers free shuttle service throughout Kent via a partnership between King County Metro, City of Kent, and Hopelink. Metro supplies the vans and pays for most of the costs. The City of Kent contributes the amount that would be collected from fares if the shuttle were not free.

The Shopper Shuttle also serves over 7,000 disabled users every year and serves the most disabled users in Metro's entire DART system.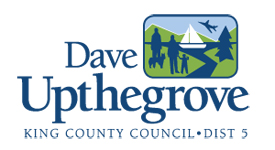 Given Metro's bleak financial outlook in April, Metro proposed eliminating the Shopper Shuttle routes that serve Kent's East Hill. As soon as I heard about that proposal, I asked Metro to take another look given that the Shopper Shuttle serves a large number of disabled riders. As a result, I'm pleased to report the Shopper Shuttle is no longer on the list of cuts and will continue to serve residents in Kent, including Kent's East Hill.

Please let me know if you have any questions about Metro or any other County issue.

Sincerely,
Dave
Dave Upthegrove
Councilmember, District 5
Metropolitan King County Council
516 Third Ave, Suite 1200
Seattle, WA 98104
(206) 477-1005
www.kingcounty.gov/upthegrove