King County Budget Update
Dear Neighbor,


The King County Council has approved the county budget for 2015 and 2016. By making tough choices and prioritizing spending, we were able to protect core services: all of the buses will keep running and all public health clinics will remain open.

This year, I focused on Metro Transit's budget as I led the council's budget team on bus funding. After digging through the numbers and reserve policies, I concluded that the proposed bus cuts for February were unnecessary. As a result, we fully funded existing bus service for the next two years. We also doubled the funding for a program to provide alternative service (like van shuttles) to communities like Burien most affected by previous cuts.


Additionally, all health clinics, including the Auburn and Greenbridge public health clinics, will remain open. These clinics provide services to thousands of families and save tax dollars in the long run. The services at Auburn and Greenbridge include maternity support and nutrition for Women Infants and Children (WIC). Local cities and community partners provided funding to the County to keep these clinics open. However, this is not a long-term solution. County revenues continue to grow slower than expenses, and our funding partners are only providing this funding temporarily.

Two other budget highlights are in the Sheriff's Office. First, the Council restored the Domestic Violence Unit that was eliminated in 2010. Second, we provided funding to help the Sheriff's Office improve its recruitment efforts so the police force can better reflect the diversity of the communities it serves. The Sheriff is embracing both of these items as ways to improve the department now and into the future.

As a new councilmember and member of the Budget Leadership Team, I was pleasantly surprised at how collaborative and open our budget process was. We held five public meetings around the county and worked together to develop a fair and responsible budget that passed the council unanimously.

Here is a link to more details on the budget. Please don't hesitate to contact me with any questions or concerns.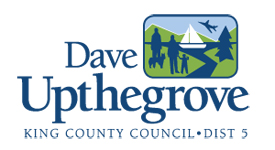 Sincerely,
Dave
Dave Upthegrove
Councilmember, District 5
Metropolitan King County Council
516 Third Ave, Suite 1200
Seattle, WA 98104
(206) 477-1005
www.kingcounty.gov/upthegrove