Promoting awareness to end Slavery and Human Trafficking
This week, the County Council declared January as Slavery and Human Trafficking Awareness month to help call attention to these modern day forms of slavery.

At King County we have taken a proactive approach to fighting back against these monstrous crimes. A year ago, the County launched a comprehensive public awareness campaign based on legislation I proposed using both County resources and private sector partnerships to show victims there is help available and where they can receive it.

The campaign included signs and ads spreading the anti-human trafficking message on 200 King County Metro buses done in conjunction with Titan Media who donated ad space.

I also reached out to Clear Channel who donated space on outdoor billboards, digital media, airport advertising and Sound Transit bus advertising where they estimate that residents of the Puget Sound region would have viewed this important message more than 22 million times. Additionally, Clear Channel Media aired close to four hundred public services announcements across seven of their radio stations. In total, Clear Channel Communications donated an estimated $250,000 of services.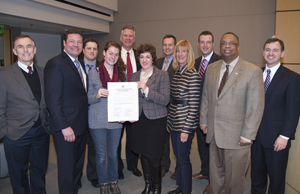 King County Councilmembers join Washington Anti-Trafficking Network (WARN) volunteer Emma Vielbig (l) and WARN Program Director Kathleen Morris (r). Morris and Vielbig joined the Council as they proclaimed January as Slavery and Human Trafficking Awareness Month in King County.
I am proud to report good news on our campaign. The Polaris Project, which operates the national anti-trafficking hotline and is a leading national organization in combating human trafficking, kept data on hotline calls coming in while our campaign was in effect. The data showed a noticeable increase in call volume, some coming from victims and others from the public wanting to know how they can help.

Educating the public on what human trafficking is, how they can help and pointing victims to where they can find help works and this public awareness campaign has shown that first hand. The work we have done on this issue is important and making a difference, but now is not the time to let up, we must double our efforts, stay vigilant and continue to find ways to continue fighting back against these crimes.

For more information on what you can do please check out the following resources:
Washington Anti-trafficking Rescue Network (WARN)

King County website: www.kingcounty.gov/humantrafficking

Polaris Project

National Human Trafficking Resource Center Hotline: 1-888-3737-888