April 17, 2019
Dear Friends and Neighbors,

Spring is finally here! I hope you have been enjoying the cherry blossoms and the more frequent views of the Olympic and Cascade Mountains. I was able to see the cherry blossoms in Washington, D.C. while on the Council's annual trip there two weeks ago to meet with our federal delegation on issues important to King County and the Puget Sound region. Our conversations were productive and informative.

A lot has happened since my last e-newsletter in March. This update's topics include:

• Visits to Small Faces Child Development Center and FamilyWorks Resource Center and Food Bank
• Combatting Islamophobia
• Solitary youth confinement
• 91st Annual Blessing of the Fleet
• Women's History Month
• I-1000
• And more!

As always, I would like to hear from you. Please do not hesitate to contact my office if you have any questions or comments.

All the best,
Jeanne Kohl-Welles
Investments that make a difference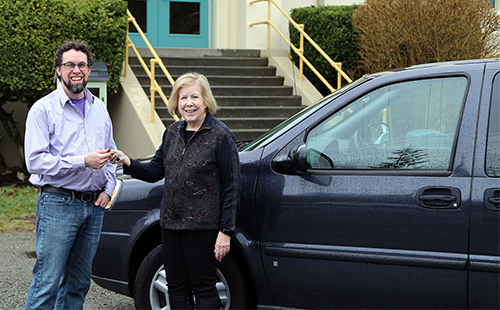 Last month, I was pleased to stop by the Small Faces Child Development Center in Crown Hill to drop off a "retired" van as a part of the Council's retired van program. Since 1995, the King County Council has donated retired vans from Metro's Vanpool fleet to multiple nonprofit organizations. The donated vans are used to help transport low-income youth, seniors, and people with disabilities.

Small Faces Child Development Center serves youth from preschool through age 12 by offering preschool, before- and after-school activities, and summer camps. I'm confident they will put their new van to good use.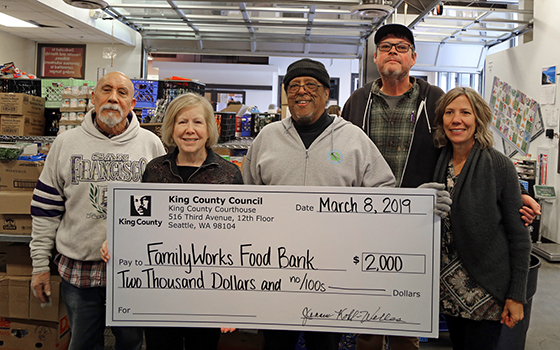 Also, last month, I was able to present FamilyWorks Family Resource Center & Food Banks with a $2,000 check to go towards its food bank operations that I was able to get included in the County's 2019-2020 budget. FamilyWorks food banks serve over 2,000 households each year and, thanks to FamilyWorks volunteers and staff, over 1,700 homebound seniors get their groceries delivered to their homes.

Responding to Islamophobia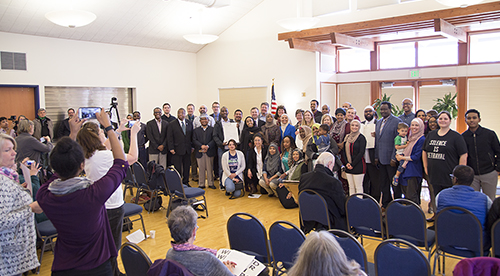 Responding to the growing acts of religious intolerance not only in King County but around the world, I joined all eight of my council colleagues in cosponsoring a proclamation condemning acts of violence against those exercising their constitutionally protected right to worship. The proclamation recognized and provided a message of solace regarding the killing of 50 worshipers inside two mosques in Christchurch, New Zealand on March 15 by a self-proclaimed white nationalist.

All too often, our society rushes to stereotype an entire group of people based on the actions of a few. Just as the heinous acts of the Ku Klux Klan do not define the morals of all Christians, the violence instigated by ISIS and other extremists does not define the hearts of all Muslims. As Malcolm X said after his pilgrimage to Mecca, true Islam [teaches] that it takes all of the religious, political, economic, psychological, and racial ingredients, or characteristics, to make the Human Family and the Human Society complete. In King County, we strive to make this human family whole. Continue reading>>>
Youth solitary confinement
Solitary confinement of youth (and, quite frankly, adults) is psychologically damaging and can have lasting negative impacts. Since joining the King County Council, I have supported ending solitary confinement of children in King County custody. In 2017, I cosponsored legislation that established requirements relating to the treatment of and services provided to juveniles in the custody of the Department of Adult and Juvenile Detention (DAJD) and prohibited the solitary confinement of juveniles except when necessary for safety, security or other reasons.

Furthermore, last August, following a lawsuit brought by four youth who were allegedly held in solitary confinement while in DAJD custody, the County agreed to ban the practice of youth solitary confinement as a form of punishment altogether as a part of the suit's settlement agreement – effectively ending the practice.

You can imagine my surprise when I read a report last month by the independent monitor that found that it appears that some youth (those who had been charged with a serious crime as a juvenile, but had been moved to adult facilities when they turned 18) might have been held in solitary confinement at King County's adult detention facilities for longer periods than are allowed under county code – despite the changes regarding youth solitary confinement that went into effect over six months ago. On March 26, representatives from the Executive's office and from the Department of Adult and Juvenile Detention (DAJD) were present at the Council's Law and Justice Committee to provide comment and answer questions about the monitor's findings.

Hearing this news was deeply disturbing and I will be working with my colleagues to ensure this practice is no longer utilized in King County and that the independent monitor remains in place until this issue is resolved.
Stop jailing noncriminal youth status offenders
It's time to right the wrong of jailing noncriminal youth status offenders. Too many suffer the ill effects of this unnecessarily punitive and in effect racist law that so negatively impacts the trajectory of their lives. Instead, let's focus on getting them what they really need – help. Click here to read my letter to the editor on this issue in the Seattle
91st annual Blessing of the Fleet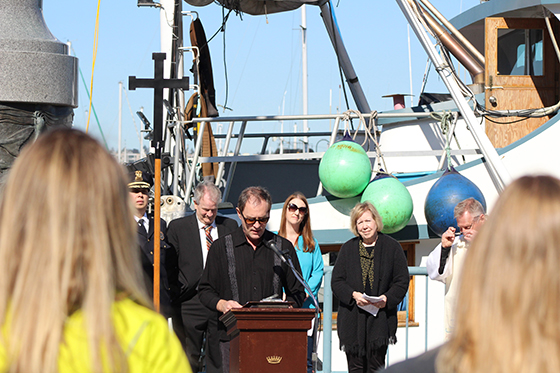 Photo credit: Brandon Macz, Queen Anne & Magnolia News

Our region enjoys some of the best seafood in the world, much brought to our shores from crews fishing in Alaska for the summer fishing season. On March 13, I sponsored a recognition acknowledging this year's "Blessing of the Fleet" and the brave men and women who will spend this coming summer in the North Pacific. This year's Blessing took place at Fisherman's Terminal on March 17, marking the start of the halibut fishing season.

I was pleased to speak at the event and was reminded of an old Irish saying, "May the holes in your net be no larger than the fish in it." Continue reading>>>
Women's History Month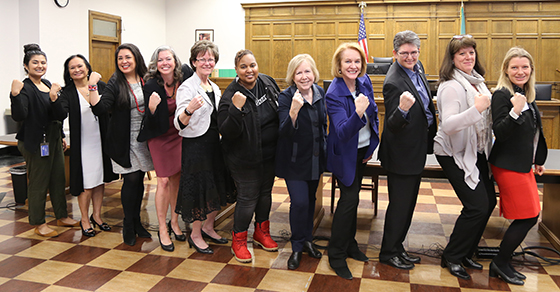 We had a great turnout for our 4th annual Women's History Month panel held on March 25 at the King County Courthouse. This year's theme was "Women who lead: Stories from the past and how they influence the future." The speakers and panelists were inspiring and prompted really thoughtful questions that led to a stimulating and rewarding discussion. Ultimately, we still have a ways to go but our future is brighter than it has ever been and together we can break down every last barrier.

If you were unable to attend, you can watch the entire event by clicking here.

Special thanks to Mayor Jenny Durkan and King County Deputy Executive and Chief of Staff Rachel Smith for their opening remarks and to Sharon Nyree Williams "Inganzo" for sharing her especially moving spoken word performance with all of us.

And many thanks to our panelists:
-Aretha Basu, Community Organizer and Legislative Aide to Councilmember Teresa Mosqueda
-Cindy Domingo, Author, activist, and Chief of Staff to King County Councilmember Larry Gossett
-Colleen Ecohawk, Executive Director, Chief Seattle Club
-Hon. Mitzi Johanknecht, King County Sheriff

Last but not least, thank you to our cosponsors, Councilmembers Claudia Balducci and Kathy Lambert, the King County Women's Advisory Board, the King County Council, and the King County Legislative Branch Equity and Social Justice Team.
Supporting I-1000
At our Council meeting last week, I was pleased to co-sponsor and enthusiastically vote in favor of a motion calling on the Washington State Legislature to pass the Washington State Diversity, Equity, and Inclusion Act (Initiative 1000), which would essentially restore affirmative action in Washington state and ensure every resident has equal opportunity and access to public education, public employment and public contracting.

In 1998, as a member of the Legislature, I fought hard in opposing I-200 that outlawed public colleges and universities from using race or ethnicity as a factor in college admissions. Unfortunately, the initiative was approved by the voters, and as a result, our universities and workforce became less diverse and inclusive. I believe that the strongly deceptive ballot title of I-200 played a major part in why it was supported by Washington voters.

I-1000 would not establish quotas and would still disallow selecting a less qualified candidate or applicant based solely on race, ethnicity, or gender. Instead, race, ethnicity, and gender would once again be allowed to be used as a factor but not the determining factor. I-1000 also makes economic sense. It is estimated women- and minority-owned businesses would have made $3.5 billion more since 1998 had I-200 not have been approved. And, since 1998, the percentage of state dollars spent with women- and minority-owned businesses dwindled from a high of 13 percent to about 3 percent in 2017.

Let's right this wrong and make our colleges and places of work and communities throughout the state more diverse and economically equitable for all.

All students benefit from a diverse student body with different perspectives and experiences. And, according to Forbes, businesses with more diverse management teams and workforce have 19 percent higher revenue due to their innovation, and whose employees are more representative of society. Also, they're more likely to be competitive in local and global markets.

I gladly join the outpouring of support in requesting the Legislature to move quickly to pass I-1000, restoring affirmative action and giving people who have been held back for too long a chance to achieve their utmost potential.

If you haven't already, click here to read an editorial that appeared in the Seattle Times arguing in favor of restoring affirmative action in Washington State.

Keep in mind, I-1000 is a citizen's initiative to the Legislature. This means that the Legislature can either pass it into law, ignore it (which would result in the initiative being placed on the November ballot), or pass an alternative that would then be placed on the ballot for public consideration.
Keep in touch
Thanks again for taking the time to read my e-newsletter and remember I do my job best when I hear directly from you. Please do not hesitate to contact me anytime if you have any questions or concerns. You can also stay tuned in to what I'm doing by following me on Twitter at @KCCKohlWelles or on Facebook at facebook.com/CMKohlWelles