New ballot drop boxes are coming to South King County, in time for the November presidential election!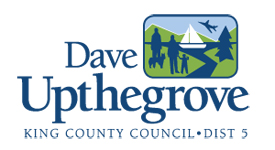 Dear Neighbor,

Yesterday the King County Budget Committee unanimously approved the 2016 budget that I proposed, which includes new funds to increase voter access to election drop boxes and materials, and also supports a host of youth violence prevention and juvenile justice programs. The money for these new investments largely comes from finding cost-savings in other parts of the county budget.

Budget increases voter access
King County is one of the largest and most diverse counties in the nation and we have a responsibility to provide access to everyone in our democracy. Our system works best when everyone participates. The budget I proposed includes funding for 30 new ballot drop-off locations bringing the countywide total to 40. The location of the drop boxes has yet to be decided, but I will advocate that South King County receives our share.

The proposed budget also expands voter outreach to Limited English Speaking communities and provides for the translation of election materials into Spanish and Korean, in addition to the currently provided Chinese and Vietnamese. The Department of Elections will begin working with community-based organizations to increase awareness and promote participation.

Budget expands alternatives to youth detention
We need to hold young people accountable for their actions, but do so in a way that helps them get back on the right path. The budget I proposed includes over $460,000 in new funding for youth mentoring and community-based alternatives to detention. These funds will help at-risk youth stay enrolled in school, be competitive in the employment market, and provide support for families throughout their contact with the juvenile justice system.

The bottom line is that although King County is facing a significant budget shortfall in the next budget cycle, we must continue to find ways to strengthen our democracy, invest in young people, and create a more fair and equitable community.
Arts project funding opportunity
Do you have an idea for a project related to arts, heritage or preservation? 4Culture, the cultural services agency for King County, is now accepting grant applications for 2016. They are looking for individual and group projects that enhance the cultural life of King County. Past grant recipients include photography exhibits, dance performances, documentary production, oral history compilations, historical landmark registration, and much more. If you are interested in applying, please check out the website for more information about eligibility and the granting process.

Deadlines are:
• February 24th: Preservation and Heritage Projects
• March 9th: Arts Projects

Sincerely,
Dave
Dave Upthegrove
Councilmember, District 5
Metropolitan King County Council
516 Third Ave, Suite 1200
Seattle, WA 98104
(206) 477-1005
www.kingcounty.gov/upthegrove