November 2018
Dear Neighbor:

I'm writing to update you on my work at the King County Council. We have just completed our 2019-20 county budget.

In addition to securing a number of specific North King County investments, my broader budget priorities included overall fiscal responsibility, continued investments in environmental protection and open space, improving our transit system, making progress on homelessness and affordable housing, and reforming our criminal justice system to emphasize prevention and alternatives to expensive incarceration.

This budget prioritizes investments aimed at ensuring everyone in King County has the opportunity to pursue their full potential. From housing investments, to expanding access to transit, to innovative criminal justice reform initiatives, this is a budget that puts our progressive values into action. I am pleased that our budget maintains maximum allowable reserves, protects King County's nation-leading bond rating, and addresses pressing needs for King County residents.

I appreciate the opportunity to serve you on the King County Council, and welcome your feedback, suggestions and ideas. Happy Holidays to you and yours.

Sincerely,
Rod
King County Councilmember Rod Dembowski
Chair, Committee of the Whole
Chair, King County Board of Health
Chair, Regional Transit Committee
Chair, Budget Panel on Equity and Justice for All

Putting Your County Budget to Work on Our Shared Priorities
Every two years, the King County Council analyzes the Executive's proposed biennial budget before adopting a final County Budget in November. All County Council members serve on the Budget Committee during this work, and four members traditionally serve on a "Budget Leadership Team." I was honored to again serve on this year's Budget Leadership Team.

This year, the Council prioritized its budget work using four panels. I chaired the panel entitled, "Equity and Justice for All" which focused its work on smart and cost-effective reforms to our criminal justice systems, and investing in better health outcomes for county residents. Other panels covered Mobility, Rural Services, and Housing & Human Services.

I am cognizant of, and concerned about, the increasing strain of growing property taxes on King County homeowners. About 17 cents of each dollar for a typical homeowner's property tax bill goes to King County. The balance is for state and local schools, city taxes, and other special districts and levies. I worked hard to limit proposed increases in staffing and other costs during our budget work, and prioritize core services. My measure for assessing new programs was whether they would result in savings or cost-effective, improved outcomes.

Much of the County's $11.7 billion budget is from voter-approved levies, including the Parks Levy, Best Starts for Kids Levy, Veterans, Seniors and Human Services Levy, and the Emergency Medical Services Levy. Each such levy is dedicated to specific purposes. Dedicated funds like these, as well as our transit and utility functions, comprise about 87% of the budget. The remaining 13% is a discretionary general fund, and of that, approximately 75% is spent on criminal justice and public safety. These core services also face the most challenges due to the statutory limit on the general fund, the growth of which is capped at 1% plus new construction, annually.

The budget is the story of who we are, our priorities, and how we respond in times of need and crisis. A priority for me is to address economic inequality and poverty in King County. My approach is to look for ways to leverage all of our available tools to effectively combat economic disparities and provide paths to lift our residents out of poverty. Here are some budget highlights that I particularly worked on with my colleagues this cycle:

• A $4 million allocation to build and fund an enhanced shelter at Harborview Hall, as well as additional funds for shelters on the Eastside and South King County.

• Allocated $100 million in workforce housing from the lodging tax, including a first-ever dedicated allocation to North King County of $8 million, and a $500,000 allocation to fund predevelopment planning for housing on state-owned surplus property at Fircrest in Shoreline.

• A $780,000 dedicated allocation from the Mental Illness and Drug Dependency sales tax to fund the successful Response, Awareness, De-escalation and Referral ("RADAR") Program and Mental Health Navigator program in Shoreline, Lake Forest Park, Kenmore, Bothell and Kirkland. This innovative partnership with law enforcement helps de-escalate potential conflicts and provides critical resources to first responders dealing with those experiencing behavioral health crises.

• An allocation of $10 million in the Metro Transit budget to launch a new no/very low income Metro bus fare program.

• A $335,000 allocation to Public Health to prioritize cervical cancer prevention to achieve 80% HPV vaccine completion rates by 2020 for all county residents between 11 and 17 years old.

For a more complete list of the changes I helped make in the 2019-20 budget, please visit the King County Council webpage.




As chair of the Equity and Justice for All budget panel, Rod asked Prosecuting Attorney Satterberg and Police Chiefs from Bothell, Lake Forest Park, and Shoreline to discuss successful criminal justice diversion programs, including Law Enforcement Assisted Diversion ("LEAD") and the highly successful RADAR/Navigator programs. Both were funded in the 2019-20 budget.




Councilmember Dembowski and Shoreline Mayor Will Hall, with Chiefs of Police, City Managers and School District leaders from Shoreline, Lake Forest Park, Kenmore, Bothell and Kirkland, working to secure funds for the RADAR & Navigator Programs.
Promoting Environmentally Friendly & Healthy Dry Cleaning
Cancer prevention has been a top priority during my tenure as Chair of the King County Board of Health. In addition to passing tobacco-free parks policies this year, I have also worked closely with the County's Local Hazardous Waste Management Program (LHWMP) to help local businesses switch to an environmentally safer dry cleaning method that reduces exposure to dangerous carcinogenic chemicals.

This spring, the Board of Health unanimously passed a Safer Alternatives Resolution, a step toward transitioning dry cleaners in King County from the use of perchloroethylene (PERC)-based cleaning systems to safer and environmentally friendly professional wet cleaning systems. PERC is an identified carcinogen, and elimination of its use in dry cleaning will reduce cancers related to PERC exposure.

Approximately 70 dry cleaners in the county are using PERC to clean clothes. In 2017, over 13,000 lbs of PERC was collected at household hazardous waste facilities in the region. Under the Safer Alternatives Resolution, King County works with these local businesses to offer education, technical support, and financial assistance to make the switch to safer wet cleaning methods.

This summer, King County awarded $20,000 grants to five family-owned dry cleaners to support the transition to wet cleaning. Going forward, the agency anticipates helping 10 local dry cleaners per year with $20,000 grants, with the goal of eliminating the use of PERC in all King County dry cleaners by 2025.

The grants are made possible by fees that King County collects on solid waste and sewer services, as well as trips to a solid waste transfer station.




Sun Drive-In Cleaners owners Mr. and Mrs. Park, Board of Health Chair Rod Dembowski, Board of Health member Jeanne Kohl-Welles, and Lynda Ransley, Program Director for King County's Local Hazardous Waste Management Program.
Voted Against Public Funding for Safeco Field
King County receives significant funds from a lodging tax on hotel, motel, and short-term rental stays occurring countywide. The funds are restricted in use by state law to one of four purposes: (1) Arts & Heritage programs, (2) Affordable housing, (3) Services for homeless youth, and (4) Tourism promotion. Earlier this year, acting on a proposal from County Executive Dow Constantine, the County Council voted to divert $135 million in lodging tax revenue to support improvements to Safeco Field over 25 years. Along with Councilmembers Jeanne Kohl-Welles, Larry Gossett, and Dave Upthegrove, I opposed and voted against this ordinance.

I worked with my colleagues to propose a compromise that would have redirected the bulk of funds earmarked for Safeco Field to affordable housing, youth homelessness services, and tourism promotion to support small businesses and community organizations all over King County. That compromise package failed by the same 5-4 vote. I offered amendments to reduce the amount for the Mariners, and to receive a credit for proceeds from naming rights for the public stadium. Each of these amendments failed on 5-4 votes. Recent news reports indicate that the Mariners will receive tens of millions of dollars for the new naming rights contract for the public stadium.

With limited resources, and homeowners feeling the significant burden of growing property taxes, it seemed to me that we should alleviate demands for more property taxes to fund important public needs like housing and services for homeless youth, by prioritizing the $135 million toward these needs. The owner of the stadium – the Public Facilities District – never asked King County for the money and had a term sheet that did not require the funds. While I enjoy a nice day at the ballpark from time-to-time, and root for the M's, I believe we should prioritize our most pressing community needs and avoid asking homeowners to raise their taxes when existing revenues like the lodging tax are available.
Women's Advisory Board Opening
We are currently recruiting to fill one available board position on the King County Women's Advisory Board with a representative from District 1. The King County Women's Advisory Board (WAB) makes recommendations to the King County Executive and the King County Council to ensure the needs, rights and well-being of women are taken into account by county government. It was established in 1978.

I've had the opportunity to work with the Women's Advisory Board on several critical issues including paid parental leave, gender pay disparity, family-friendly workplace policies, and early childhood learning investments. The Board has been instrumental in advancing our work in each of these areas.

Regular meetings are scheduled for the second Tuesday of every other month, from 4:00 to 6:00 p.m. Meetings are usually held in the King County Chinook Building, in Seattle. Board members are appointed to serve a three-year term. If you or someone you know would like to serve as your community's representative, please email me at rod.dembowski@kingcounty.gov or call 206-477-1001.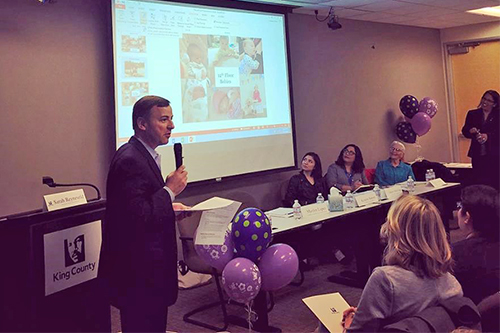 Rod joined a Women's Advisory Board monthly meeting to discuss the success of the County's paid parental leave program which he wrote into law.
Support for King County Veterans
King County has a strong and enhanced local safety net for veterans and their families, funded in large part through the King County Veterans, Seniors and Human Services Levy. My family has a long history of service, and I have prioritized veterans services while on the County Council. Recently, as a result of an amendment I passed to the Veterans Levy ordinance, King County was able to reduce the population of homeless veterans by 75%. I hope that we will continue to serve those who served our nation with the services and support they and their families need.

If you are a veteran, family member of a veteran, or know a veteran who needs help with housing or other services, please reach out to the King County Veterans Program, https://www.kingcounty.gov/depts/community-human-services/veterans.aspx.




Rod attends Veterans Day Ceremony at the Museum of History & Industry with his father, Korean War Combat Veteran, Al Dembowski. Photo credit: Paul Christian Gordon.




Rod at the annual Shoreline Veterans Day Program with Mayor Will Hall, Councilmember Susan Chang, Capt. Russ Philbrick (USN Ret.), guest speaker Michael Reagan, Brig. General Raymond Coffey, and other distinguished Shoreline Veterans and guests. Photo credit: Steven Robinson.
Retired Passenger Van Program
King County has a retired passenger van program, which transfers retired Metro Vanpool vans to non-profit organizations or local governments that serve people with special transportation needs. If your organization transports customers with special needs, including seniors, low-income, youth or people with disabilities, and you would like to apply for a donated van, please email me at rod.dembowski@kingcounty.gov or call 206-477-1001, and we will send you an application.




Rod, with friends at the Northshore Senior Center, and CEO Brooke Knight, donating a van in October 2018.