April 24, 2018
It's been a busy few months since we last touched base so I'm sending you an update about what's been happening here at the King County Council. In this issue you will find information on:

• 4Culture changes
• Inquest process
• Transit service in Belltown and the waterfront
• Immigrant and refugee support
• Women's History Month
• And more

We've had a busy couple of weeks here at the council. Last Monday, we expanded housing opportunities for folks in the county by prohibiting landlords or home sellers from denying people housing based on how they would pay for the unit. This means prospective tenants with verifiable alternative source of income, such as Social Security, Veterans Affairs Supportive Housing (VASH) vouchers, state Housing and Essential Needs (HEN) funds, or rapid rehousing assistance, could not be discriminated against in the rental process. This ordinance incorporates language in the county code from the new state law on this issue and gives the county additional regulatory teeth to make sure people are following the rules.

Also last Monday, I presented an "Equal Pay Day" recognition, urging King County residents to recognize the full value of women's skills and significant contributions to the labor force and encourage businesses to conduct internal pay evaluations to ensure employees are being paid fairly. Other important and recent items:

• Co-sponsored proclamation recognizing April as Sexual Assault Awareness Month in King County. We as a community and as a county must not stop doing everything we can to stop sexual violence in all of its forms.

• Worked on legislation to develop an "Infants at Work" pilot program for KC employees. Pleased to be co-sponsoring this motion with Councilmember Rod Dembowski which will get a final vote at the April 30th Council meeting.

• Pleased to vote in favor of legislation at last week's Board of Health meeting that bans smokeless tobacco use in professional sports stadiums throughout the county. Because the professional stadiums are publically owned, the King County Board of Health has regulatory oversight over these types of issues. The Mariners supported the ban. Special thanks to Seattle City Councilmember Sally Bagshaw for bringing this issue forward and thanks to Councilmember Rod Dembowski for championing it.

• Continuing to work with my colleagues to address our homelessness crisis, including actively participating as a member of the Regional Affordable Housing Taskforce and OneTable – a new regional approach bringing together government, business leaders, service providers, philanthropy, advocates and people with lived experience of homelessness and local residents to develop innovative solutions to the homelessness crisis.

Thanks for taking the time to read my e-news. Below you will find more information on important issues I've been working on so far this year. Stay tuned for more updates!

Sincerely,
Jeanne Kohl-Welles
Council imposes control over 4Culture
I was disappointed on Monday, March 26th when the County Council voted to impose new Council control over 4Culture. 4Culture is nationally-recognized for its efforts to support arts, heritage, and historical preservation across King County. This ordinance was a "solution in search of a problem," needlessly politicizing and micromanaging an organization with an exemplary track record.

I encourage you to watch this debate on the Seattle Channel between Councilmember Larry Gossett and myself.

As one of three ex-officio members of the 4Culture Board, I have firsthand experience of its professional, deliberate, and transparent processes. I believe ethnic and geographic equity is a critical component to a fair grant making process, and 4Culture has made great strides in recent years in creating programs and staff positions dedicated to encouraging previously unfunded artists and organizations from communities of color and other underrepresented communities to apply for funding.

I worked very hard along with Councilmembers Joe McDermott and Claudia Balducci to find compromise with our councilmember colleagues who were in favor of the legislation. Unfortunately, they were not open to making any substantive changes. Even so, I would like to thank the many community members who emailed their councilmember or attended a committee meeting in person to advocate for keeping 4Culture safe from political influence. Going forward, I will work to ensure 4Culture's processes remain as depoliticized as possible, and will continue to fight for an equitable, independent, and accessible 4Culture.
Reforming the inquest process
Earlier this year, I introduced an ordinance requiring the Department of Public Defense to provide legal representation to families involved in an inquest process at King County. King County Code requires that "any death involving a member of any law enforcement agency within King County while in the performance of his/her duties" shall have a formal inquest convened. (Chapter 36.24, Section 36.24.020). The statute gives the "Coroner" authority to call an inquest. Because King County does not have an elected Coroner, the County Executive has been given the authority to call for an Inquest Hearing.

The purpose of an Inquest is to determine who died, the cause of death and the circumstances surrounding the death, including the identification of anyone who may be criminally liable for the death. An inquest is a fact finding hearing, not a criminal proceeding.

Last year, the Public Defender's Association brought to my attention, in the wake of Charleena Lyles' death, the reactions by families who have gone through the inquest process and felt it weighed heavily in favor of law enforcement, because of their representation by police union lawyers.

During the King County Council's deliberation on my ordinance to require representation for families, King County Executive Dow Constantine announced a half on all ongoing inquest processes and the creation an inquest process review committee. Recently, that committee came out with a report and recommendations. I am pleased to have co-sponsored the ordinance requiring legal representation for families with Councilmember Dave Upthegrove and for the final vote in support by my colleagues on the King County Council. I look forward to the follow-up legislative action that will further reform the inquest process.
Restoring transit service to the waterfront and northwest Belltow
As many of you are aware, Metro recently eliminated Route 99 – the only bus route that serviced the waterfront and the northwest Belltown area. Coupled with the Mayor's announcement on March 30 to pause construction of the center city connector streetcar and the construction for it on First Avenue in Pioneer Square, the waterfront has become a transit desert. I'm disappointed to lose this route because it provided an important service to businesses, tourists, and commuters alike.

Click here to read an Op-ed I wrote about my efforts to restore transit to the waterfront and northwest Belltown that appeared in the Queen Anne & Magnolia News in March.
Supporting immigrants and refugees in King County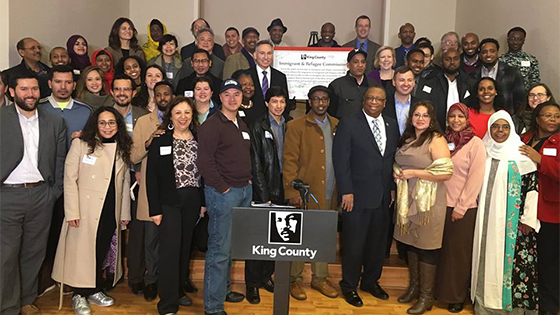 In February, we passed an ordinance I co-sponsored that will prevent the use of County funds and resources on federal immigration enforcement and outlines the steps the County will use to protect immigrants and refugees who seek services from the County or are victims/witnesses of crime, while still adhering to federal law. The goal of the legislation is to continue adhering to federal laws while encouraging all people to feel safe in requesting needed services and reporting crimes against themselves or people in their neighborhoods.

With this action, we sent a strong message of inclusion to immigrant and refugee communities of King County. It's important for them to hear: "You are welcome here."

It makes no sense to spend the limited resources we have to work against what is in all of our best interest--ensuring public safety and equitable access to the services we offer by protecting and supporting communities that are unfairly targeted by our federal government. This important ordinance came on the heels of another ordinance I co-sponsored to establish a King County Immigrant and Refugee Commission. The goal of the commission will be to act as a central point of contact, communication, and coordination for all immigrant and refugee residents, and those serving and engaging with them. It will also focus on understanding and addressing challenges faced by immigrant and refugee communities living in suburban cities and unincorporated areas of the county.
Women's History month panel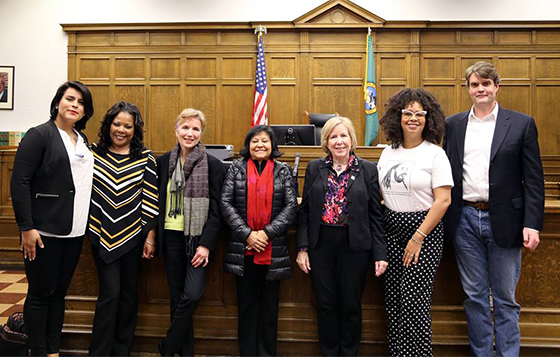 I was pleased to host our 3rd annual panel discussion in honor of Women's History Month on Tuesday, March 20th. Our panel theme was, "What does #MeToo mean for communities across King County?"

Thank you to the King County Women's Advisory Board and the Equity and Social Justice Legislative Branch Team for co-sponsoring our event.

Our panelists included:

• Sutapa Basu, Director, University of Washington Women's Center;
• Eula Scott Bynoe, Hella Black Hella Seattle podcaster, doula, childbirth educator, and equity trainer;
• Doris O'Neal, Domestic Violence Director, YWCA of Seattle/King County;
• Monserrat Padilla, Coordinator, Washington Immigrant Solidarity Network;
• Peter Qualliotine, Director, Men's Accountability, Organization for Prostitution Survivors;
• Mary Ellen Stone, Executive Director, King County Sexual Assault Resource Center.

We heard a range of perspectives from our panelists as we dug deeper into the systemic and institutional barriers that face individuals in our community who have experienced, or are at-risk of experiencing, sexual harassment, assault, and violence. You can watch the full video of our Women's History by clicking here.
In the news
Sex trafficking: Children depend on us – Seattle Times
In King County's fragmented homelessness system, calls for a change – Seattle Times
It's official: Mariners, opponents will soon no longer be able to chew tobacco at Safeco Field – Seattle Times
Backpage.com seized by FBI, victory declared by locals who fought the site – KIRO 7
Backpage shutdown closes avenue used to support human trafficking – Shoreline News
Safe Injection Sites in Cities – New York Times