July 18, 2019
Dear Friends and Neighbors,

If you're like me, you are still buzzing with excitement after that thrilling World Cup soccer championship match. I couldn't be prouder of our American women who wear the red, white and blue for winning their 4th World Cup.

I've been working on a lot of different items here at the Council since my last update, including:

• Co-sponsoring a motion that passed last week to renew and extend the six-month moratorium on the establishment or expansion of existing fossil-fuel facilities in unincorporated King County.
• Leading discussions with my colleagues on laying the groundwork for a regional governance approach to homelessness. Consolidating all of the local governments working on this issue under a joint-authority will streamline the homelessness response to get more people into permanent housing.
• Continued to deliberate how we will distribute funding made available through the Puget Sound Taxpayers Accountability Account (PSTAA) to improve educational outcomes countywide. More on the newsletter below.
• Voted unanimously with my colleagues to adopt a supplemental budget making investments and enhancements to the two-year $11.7 billion King County budget.
• Included in the supplemental budget a study to explore implementing a Downtown Seattle to Ballard water taxi route.
• And much more.

The rest of this e-newsletter is meant to provide you with an update on some of the other issues I've been working on since my last update. As always, I would like to hear from you. Please do not hesitate to contact my office if you have any questions or comments. All the best,
Jeanne Kohl-Welles
Orca Action Month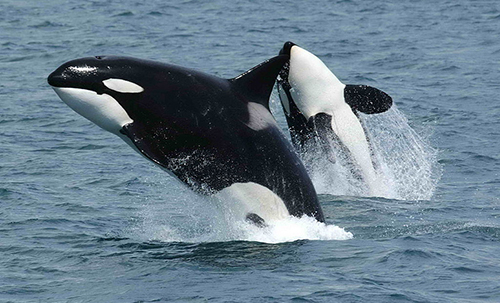 Last month, I sponsored a proclamation recognizing the month of June as Orca Action Month in King County. As our region rapidly develops and changes in so many ways, the Orcas that grace us with their beauty and majesty are a reminder of why it is so important for us to preserve and conserve the environment and wild beauty that surrounds us. I was able to present the proclamation to representatives from the Washington Environmental Council and the Orca Network, and personally delivered a copy of the proclamation to the Orca Network's Langley Whale Center on Whidbey Island.

In order for us to continue to protect these whales that are so important to our northwest identity, we must act urgently to defend our waters from harmful pollutants, preserve and restore historic salmon runs, and grow as a region responsibly.

Click here to learn more about a study for which I was able to secure funding for evaluating the impact wastewater effluent has on marine life in Puget Sound, specifically Southern Residents and Chinook.

You can also click here for more information about what you can do individually to protect and improve water quality.
Ballard to Downtown Seattle Water Taxi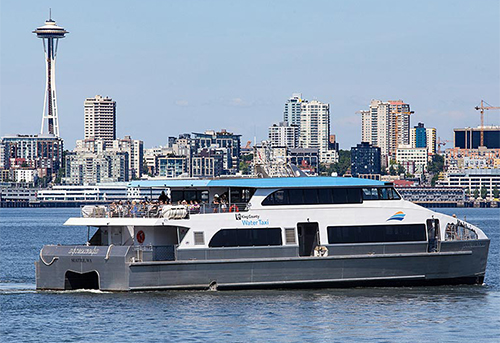 Are you tired of being stuck in traffic going to and from Ballard? Just imagine being able to bypass it all while sitting back and enjoying gorgeous views of Elliot Bay and the downtown Seattle skyline. At the end of June, I was able to include in the supplemental budget a study to explore implementing a Downtown Seattle to Ballard water taxi route. This is an important follow up study that was recommended in an initial report of potential water taxi routes that was released in 2015.

The results of this study will be delivered to the King County Council in December of 2020 and will include an environmental impact analysis and options for funding implementation.

Currently, Metro operates two successful water taxi routes – one from Vashon Island and the other from West Seattle. Our area's proximity to water makes this an intriguing and useful transportation option. Stay tuned.
PSTAA Update
At the Council, we are still deliberating how we will distribute funding made available through the Puget Sound Taxpayers Accountability Account (PSTAA). PSTAA was created as an amendment to the 2015 State Transportation Revenue Package by the Washington State Legislature, and directs that these Sound Transit-related funds be used for educational services to improve educational outcomes in early learning, K-12, and post-secondary education and are targeted toward youths that are low-income, experiencing homelessness, or in foster care. Approximately $315 million of PSTAA funds are expected to become available to King County between 2019 and 2034, and the County can decide, within parameters set by the state, how to spend the funds.

I believe that we would be missing a major opportunity if we were not to target the bulk of these funds for communities and people who have been traditionally left behind. I will not support any PSTAA legislation that does not include a robust and equitable funding solution. We have to get this right and improve educational outcomes for our most vulnerable populations across all spectrums of educational development.
Supporting Helpline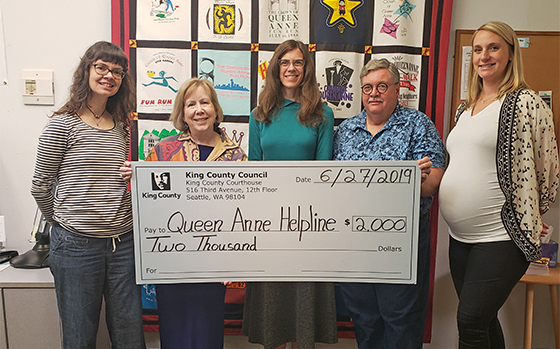 I was pleased that last year's County budget provided two thousand dollars to support Queen Anne Helpline and its mission to prevent homelessness and stabilize the lives of neighbors in need. Since 1982, the Queen Anne Helpline has worked to prevent homelessness by providing emergency rent assistance and helping individuals who are homeless move into permanent housing by assisting with security deposits, among other services. Annually the program prevents over 500 evictions and serves over 2,000 individuals.

I thoroughly enjoyed a recent tour of their facility and I am delighted to have such a wonderful organization serving our most vulnerable residents right here in District Four. And, I was pleased to hand out awards at the annual Queen Anne Helpline Fun Run last Saturday.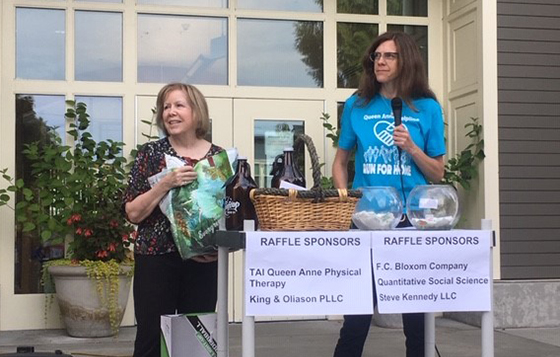 Also, last week I was able to visit the Ballard Food Bank. Earlier this month, the Council provided additional funding for the food bank in a supplemental appropriations ordinance. The Ballard Food Bank provides food to over 1,200 individuals per week and has been serving the greater Ballard area, as well as Queen Anne, Magnolia and Interbay, since the early 1980's.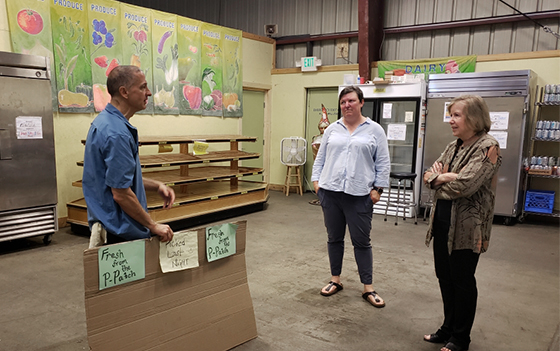 That supplemental appropriations ordinance also provided additional funding for the following organizations located in or serving residents of District Four:

• Creative Justice
• Friends of Discovery Park
• BEST: Businesses Ending Slavery and Trafficking
Just Cause Eviction and other tenant protections
Earlier this month in Skyway, located just south of Seattle in unincorporated King County, the lack of Just Cause Eviction laws almost resulted in a group of tenants being evicted. However, the community rallied around the tenants and the landlord has since rescinded the eviction notices. This doesn't mean the problem is solved. King County Councilmember Larry Gossett and I will be sponsoring a Just Cause Eviction ordinance to prevent landlords in unincorporated King County from arbitrarily ending a rental agreement. Click here to learn more about the Just Cause Eviction law already in place in the City of Seattle. In addition, Councilmember Gossett and I plan to introduce a package of anti-displacement legislation. Stay tuned for a public engagement process and opportunities to review and provide feedback on some exciting new initiatives.

As the Chair of the Health, Housing and Human Services Committee, I will have a briefing on other tenant protection legislation at the July 30th meeting at 9:30 a.m. at the Council Chambers on the 10th floor of the County Courthouse – 516 Third Ave. in Seattle. You can also click here to stream the briefing live.
Board of Health Update

Building upon legislation I co-sponsored with Councilmember Joe McDermott last summer, the King County Board of Health hosted a two-night summit on the prevention of gun violence and to examine ways to prevent gun violence through a public health approach. You can read more about it in this article that appeared in Westside Seattle.

Today at the regularly scheduled Board of Health meeting, we received a report from the gun violence summit and heard a briefing about Vaping in King County. There was also be a special proclamation recognizing Public Health's excellent communicable disease response during the hepatitis A and measles outbreaks.
Sign your kid up for camp!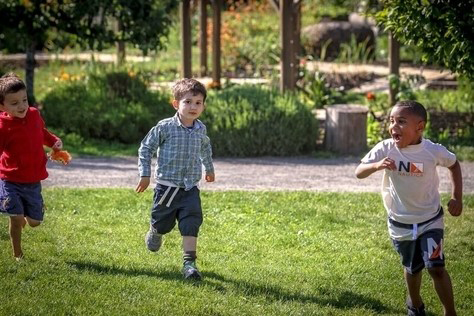 Summer is finally here and it's not too late to sign your kids up for summer camps nearby! King County is funding youth programs across the county through the Best Starts for Kids initiative. Click here to find a camp or drop-in program near you to help keep the young ones in your life engaged and active.
New blog posts
I have published two new blog posts since my last e-newsletter was sent out. Click the following links to read them:

• Gun violence – a public health crisis
• Increasing Jury Diversity in King County

You can read my past blog posts any time by clicking here.
Keep in touch
Thanks again for taking the time to read my e-newsletter and remember I do my job best when I hear directly from you. Please do not hesitate to contact me anytime if you have any questions or concerns. You can also stay tuned in to what I'm doing by following me on Twitter at @KCCKohlWelles or on Facebook at facebook.com/CMKohlWelles