September 25, 2019
Dear Friends and Neighbors,

The first day of fall has come and gone and many of you have been busy getting your kids off to school to start a new year of learning. Things too have been busy here at the Council since my last update. We allocated millions of dollars to improve education outcomes for our most vulnerable students, directed $100 million in newly available funding to support affordable housing, and my legislation to waive enforcement of Metro bus fares when Metro activates its Emergency Snow Network passed with strong support. More about each of these items and more in the newsletter below.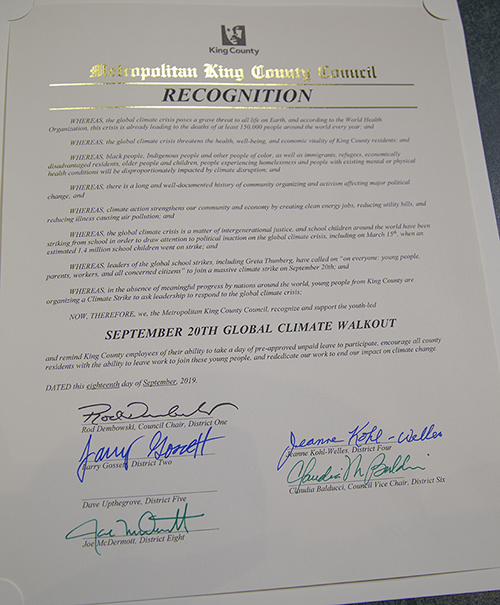 Last week, I stood in solidarity with students from across the region who were striking to call attention to our worsening global climate crisis. To show additional support, I sponsored a recognition with Councilmember McDermott supporting the worldwide walkout. Frankly, we can no longer sit by idly as the world around us burns and melts. Sadly, our children and their children are the ones who are going to have to do the most work to clean up the mess we have created. So, we must all stand with our children as they fight for their futures and then we all must take collective action to change course and save this planet – our only home.

The rest of this e-newsletter is meant to provide you with an update on some of the other issues I've been working on since my last update. As always, I would like to hear from you. Please do not hesitate to contact my office if you have any questions or comments.

All the best,
Jeanne Kohl-Welles
PSTAA - $318 million for student success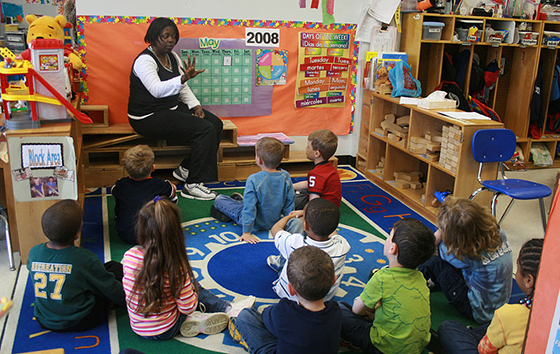 As our region grows rapidly and the cost of living increases, we must go the extra mile to make sure children and students from all walks of life don't fall through the cracks. That's why last month the Council passed a motion I sponsored to invest $318 million over the next 15 years to improve education outcomes for our most vulnerable children and youth. This includes funding for early learning facilities, outside of class K-12 support programs, and a King County Promise program. Continue reading >>>.
$100 million for affordable housing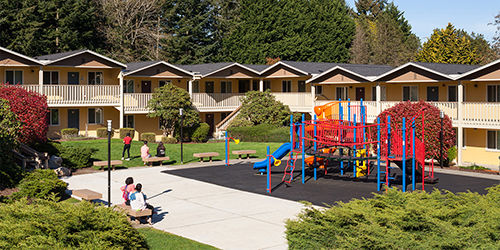 Despite a strong economy we still face significant challenges—including increasing income inequality, housing displacement and homelessness.

In order to stem the tide of people experiencing homelessness we must maximize every available tool in addition to addressing the root causes and systemic and institutional inequities that perpetuate this crisis.

That's why I am pleased that legislation I sponsored with Councilmember Balducci, allowing King County to directly access approximately $100 million in funding for affordable housing, passed the Council unanimously at the end of last month. Continue reading >>>
Major snow event fare policy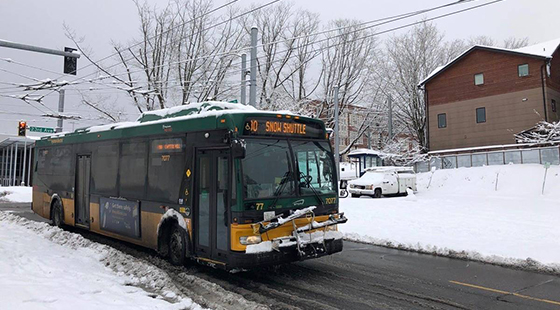 Last month the Council approved my legislation that waives enforcement of Metro bus fares when Metro activates its Emergency Snow Network to encourage people to use transit and avoid driving during severe snowstorms.

Like our policy of free fares on New Year's Eve, this legislation is about promoting safety. It will encourage people to stay off the roads and get to where they need using a safer mode of transportation – regardless if they have an Orca Card or enough money to pay the fare.

The measure was proposed earlier this year in response to a massive storm that devastated roads and highways across the region in February and became known as "Snowmaggedon." This resulted in Metro activating the Emergency Snow Network for the first time. Continue reading >>>
Regional approach to homelessness
Earlier this month, I joined regional leaders at a press conference at which Seattle Mayor Jenny Durkan and King County Executive Dow Constantine announced a proposal for a new regional authority to combat homelessness. This new authority will focus on unifying the homeless response system across Seattle and King County.

There is no disagreement that we as a region must do better getting individuals and families the services they need to achieve stable housing. The mayor and executive have provided us with a strong blueprint. But there is still a lot more to do. This is by no means a finished product – it is a work in progress.

As the lead sponsor for the legislation, I have been working with elected officials in our suburban cities, and colleagues on the County Council, and on the Seattle City Council, and I'm also starting to have a constructive dialogue with the public to ensure the final product comes from a solid alliance across governments and agencies that can finally begin to reverse the effects of this bleak chapter in our region's history. Continue reading >>>
Human trafficking legislation
Rideshare and taxi drivers are often on the front lines of the human trafficking trade. Earlier this month, the Council unanimously approved legislation I sponsored with Councilmember Dunn that will lead to a requirement that for-hire drivers, including those with Uber and Lyft, receive sex trafficking awareness training as part of their county licensing process. By providing these drivers with training about this horrific practice, they will be better able to recognize when someone is being trafficked and know what steps to take in response to connect those being trafficked as well as potential victims to information to get them help and to safety. Continue reading >>>
Attention residents of Ballard!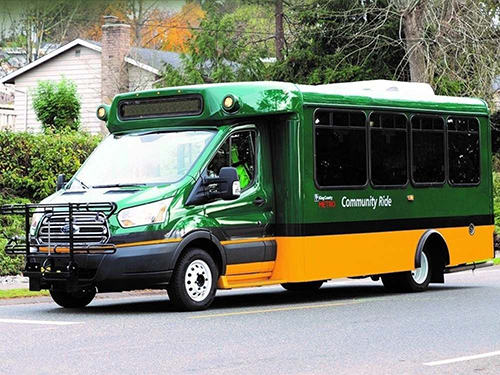 Do you live in Shilshole Bay or Sunset Hill or like to visit Golden Gardens Park? We need to hear from you. Over the past two years, I've convened a series of meetings between Shilshole residents and King County Metro, and now Metro is launching a community connections pilot in this area.

Much of the Seaview Avenue and Sunset Hill area west of 28th Ave NW is cut-off from frequent all-day fixed route bus service. Residents and visitors in this area have identified a need for improved mobility options between downtown Ballard and Golden Gardens.

Click the following link if you live in or visit the Seaview/Sunset Hill mobility needs area to participate in a short survey to help determine what concepts will be moving forward: https://publicinput.com/SeaviewAveSunsetHill

You may also click this link to learn more about the Seaview/Sunset Hill community connections project and process: https://www.kingcounty.gov/…/partn…/seaview-sunset-hill.aspx
Keep in touch
Thanks again for taking the time to read my e-newsletter and remember I do my job best when I hear directly from you. Please do not hesitate to contact me anytime if you have any questions or concerns. You can also stay tuned in to what I'm doing by following me on Twitter at @KCCKohlWelles or on Facebook at facebook.com/CMKohlWelles.