December 24, 2018
Dear Friends and Neighbors,

This past year, I have been busy at the Council working on ways to address the challenges facing our region and establishing new priorities and strategies so everyone in the County has the opportunity to thrive and live a fulfilling life.

This e-newsletter includes a quick recap of some of my work in 2018, as well as information on a special project I am working on in 2019 and on an upcoming event happening in District Four.

As always, I would like to hear from you. Please do not hesitate to contact my office if you have any questions or comments about any of these topics or anything related to County government important to you.

All the best,
Jeanne Kohl-Welles
Oral history project—storytellers wanted
Do you remember the Seattle World's Fair? If so, we want to hear from you! My staff and I are working on a project and we would appreciate having interested individuals come down and be interviewed on camera to recollect old times around the working title, "The 1962 World's Fair — What Did the Neighbors Think??" We have seen fantastic productions around the major players and the bigger picture, but none around how the Fair impacted the lives of those closest to it—residents of our district.

Space and time for this project are limited, so if you have stories to share, we are excited to hear them! The interview will be taped in the KCTV studio at the King County Courthouse in Pioneer Square.

Please contact my Chief of Staff, Adam Cooper, at adam.cooper@kingcounty.gov or 206.477.3763 to get involved in this exciting and fun effort. When the final product is complete, I will be sure to post it so you can all see and hear our neighbors' views of this critical part of County history.
2018—Year in review
Affordable housing and homelessness:

Affordable housing and services for people experiencing homelessness were top priorities of mine in the 2019-2020 biennial budget that allocates funding for enhanced shelter and modular housing as well as several affordable housing projects, including a project which I advocated for at North Seattle College. Click here to read a blog I posted this year that provides a recap of what we have done so far to tackle this difficult issue. You can also click here to read about the newly announced King County and City of Seattle joint effort to make homelessness rare, brief, and one time.

VSHSL implementation

One of the major issue I worked on this year was the implementation plan and governance structure of the voter approved Veterans, Seniors and Human Services Levy. The levy will provide support to reduce homelessness and provide greater housing stability for veterans, seniors, and vulnerable communities throughout King County. Click here to learn more about this important initiative.

Southern Resident Killer Whales:

In 2018, I secured funding in the budget to commission a study to investigate the impact wastewater effluent has on marine life in the Puget Sound, including on Southern Resident Orcas and their prey, primarily Chinook Salmon. If you haven't done so already, check out my OpEd that was published in Crosscut about the study and why it is important by clicking here.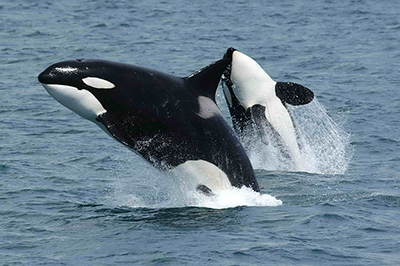 Protecting immigrant victims of crime:

This year, I secured funding to add an additional full-time records management specialist to ensure the King County Sheriff's Office is processing U visa requests within the state-mandated 90-day time frame. Click here to learn what U visas are and why we should ensure they are processed quickly.

Pre-paid postage for ballots:

You no longer need a stamp to vote! This spring, King County became the first voting district in the state to provide postage free-ballots. Click here to learn more.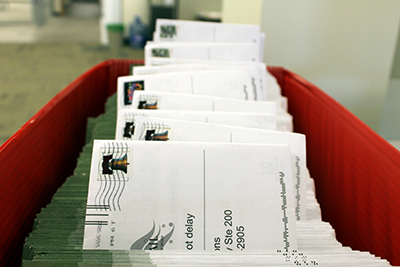 New anti-discrimination and harassment policies:

This year, I sponsored legislation to align our policies, procedures and training to create work environments that are inclusive, safe and respectful for the more than 14,000 employees in King County government. Click here to read my blog post to learn more.

Putting a stop to trafficking:

Last September, the Council adopted a motion to implement the recommendations of a labor trafficking report I requested, including training on labor trafficking for King County employees, and funding of procurement practices to ensure ethical supply chains for County business. Also, I joined Councilmember Reagan Dunn to launch an interjurisdictional anti-trafficking awareness campaign in January 2019. Click here to learn about this partnership and our efforts to stop trafficking.

Transit update

This budget cycle, I was pleased to help secure funding to implement a low/no-cost transit fare program for our region's most vulnerable transit riders.

Additionally, I worked with Metro to identify near-term and long-term transit solutions for the Downtown Waterfront. This area has been without bus service since Route 99 was cancelled in anticipation of major construction projects in the area. You can read more about this issue and the recommendations by clicking here.

Also, I am working with community members in the Shilshole Bay neighborhood to restore some kind of public transportation option in their area. In the fall, community members launched a survey to better understand their transit needs. Metro is analyzing the data now and I will be working with them next year to find a way reconnect this unique and beautiful area to our public transit system.

Promoting responsible gun ownership:

Gun violence and suicide by gun together continue to be a significant public health crisis, and a public health crisis calls for a public health solution. This year, I joined Council Chair Joe McDermott in sponsoring a legislative package aimed at reducing the harmful effects firearms can and do have on our communities. Click here to learn more.

Safeco Field:

Earlier this fall, I voted against legislation that will result in the County's appropriating $135 million in funding to provide maintenance and upkeep to Safeco Field. The measure ultimately passed. Click here to read my blog post on why I opposed this decision.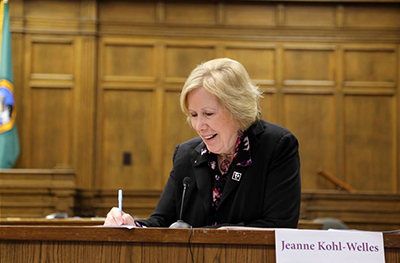 Film screening in January
Next month, along with Councilmember Larry Gossett and the UW Law, Societies and Justice Department, I will be hosting a public film screening of "Trickle Down Town" – a documentary film on homelessness by West Seattle filmmaker, Tomasz Biernacki. There will be a short Q&A session following the film and a special guest panel. Click here to watch the film's trailer. I hope to see you there!

• What: Trickle Down Town screening
• Where: Samuel E. Kelly Ethnic Cultural Theatre (3931 Brooklyn Ave NE, Seattle, WA 98105)
• When: Wednesday, January 30th at 6 pm (Doors open at 5:30 pm)
• Cost: Free