May 14, 2019
Dear Friends,
Summer is right around the corner and many fun activities and events are coming up quickly. I will see you at parades and many other regular community events!

It's a pleasure to represent District 3.
Kathy Lambert
In this Issue:

1. Information on car safety
2. SE 80th Street closure for roadway repair, May 14-15
3. NE Lake Joy Road lane restriction, May 15
4. Upcoming lane restrictions near North Bend, May 15-17
5. Night Work on Issaquah Hobart Road SE, May 20-June 6
6. Water safety
7. Snoqualmie Valley Transportation Summer Freedom Program
8. Summer repair events
9. Issaquah Mobility Master Plan survey
10. Duvall Days: June 1-2
11. Big Backyard 5K: Sunday, June 2 at 9 am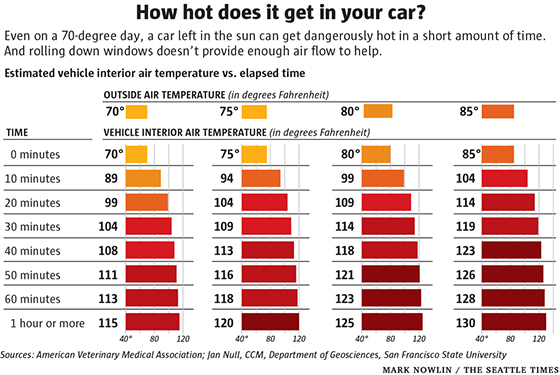 As the weather gets hotter, it is important to remember that it is never okay to leave a child or pet alone in an unattended parked car. Car windows strengthen the sun's rays, and the stagnant air creates a dangerous combination that leads to the temperature inside your car being much warmer than outside. Children are especially vulnerable to the heat, as their body temperatures increase significantly faster than adults.

Additionally, please be sure to always lock your car when it is parked, as children can often climb into an unlocked car by themselves, but they may not be able to get out on their own, especially when the heat can quickly disorient them.

Read more on this issue by clicking here.
2. SE 80th Street closure for roadway repair, May 14-15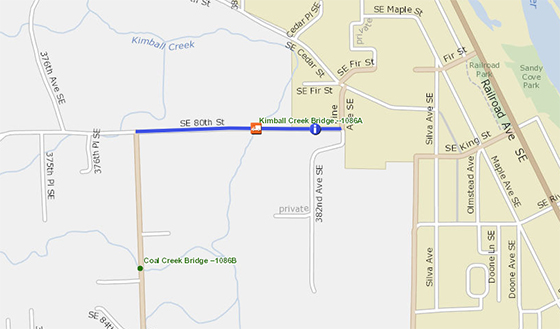 Beginning Tuesday, May 14 at 8 a.m., SE 80 St from 378 Ave SE to 382 Ave SE will be closed as crews work to repair roadway settlement. The work location is just outside of the City of Snoqualmie, approximately ½ mile west of State Route 202. Road closure signs are in place on site and there will be a detour around the closure. The work is expected to finish on Wednesday, May 15 at 3 p.m. Visit the My Commute webpage to view the map.
3. NE Lake Joy Road lane restriction, May 15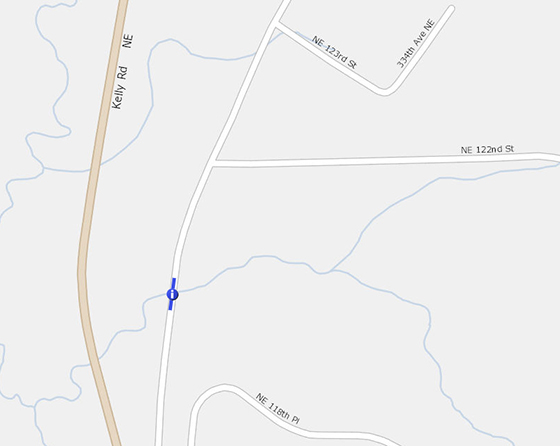 On Wednesday, May 15, geotechnical drilling operations will take place on NE Lake Joy Road approximately 800 feet north of NE 118th Place. The work is being done in preparation for a box culvert installation and requires a daily lane restriction from 7 a.m. to 5 p.m. Drivers will be directed through the work zone, which is located north of Stillwater and west of Lake Joy, and should expect delays. A map of the location is available on the My Commute webpage.
4. Upcoming lane restrictions near North Bend, May 15-17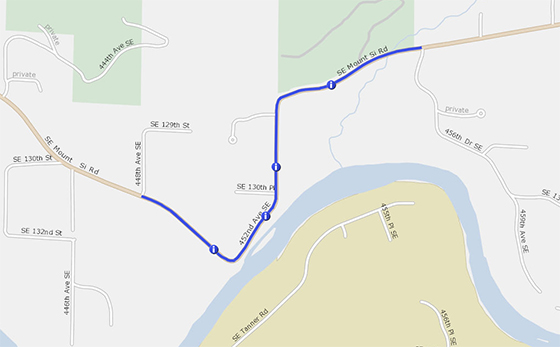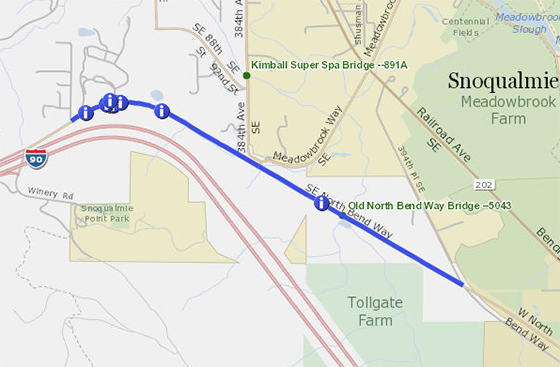 Upcoming lane restrictions are planned at locations near North Bend in unincorporated King County for guardrail maintenance work.

Locations include:

• SE Mount Si Road from 448th Avenue SE to 456th Drive SE
• SE North Bend Way from 372nd Avenue SE to SE 106th Place

The work will require daily lane restrictions May 15 to May 17, from 7 a.m. to 4:30 p.m. Due to the nature of the work, specific locations and actual work day, time and duration may vary. During lane restrictions, motorists will be flagged through work zones. Expect delays. Visit the My Commute webpage to see mapped locations and to get more project information.
5. Night work on Issaquah Hobart Road SE, May 20-June 6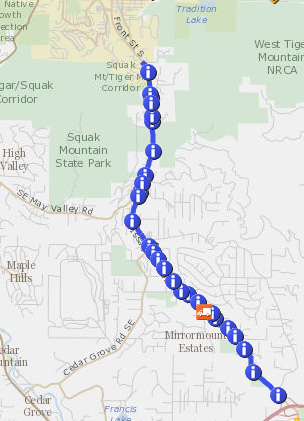 Beginning Monday, May 20, nighttime guardrail preservation work will begin on Issaquah Hobart Road SE from the Issaquah city limits to State Route 18. The work is scheduled from 7 p.m. to 5 a.m., Monday through Thursday. The work is expected to finish on Friday, June 7 at 5 a.m. During construction, the road will be reduced to one lane with flaggers directing traffic. The work is being performed at night in order to reduce traffic impacts; however, travelers should expect delays while crews are working. Residents in the area may experience additional noise as a result of this work. Visit the My Commute webpage to view the map.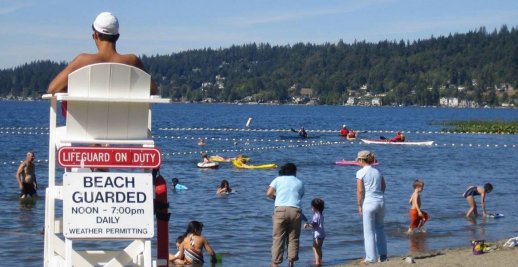 Rivers are inherently dangerous places to recreate. The water can be high, swift and cold as mountain snowpack melts, making staying in control and hypothermia real risks.

Here are some safety precautions to remember when recreating in rivers:
• Always wear a PFD (personal flotation device.)
• Do not use alcohol or drugs when recreating on the river.
• Watch children closely when they are on or near any type of water; stay close enough to reach them immediately.

When planning a boating or floating trip:
• Always tell someone your route and when and where you expect to put in and take out.
• Have a back-up plan for emergency contact in case your trip is cut short by an unforeseen obstacle or emergency.
• Never float the river alone and, if possible, make sure there is at least one oared craft in your group in case a rescue is needed.
• Bring a dry bag with food, water, and warm clothes.

Click here for more information regarding river safety.

Benefits of swimming in a lifeguarded area:
• Most drownings are preventable through strategies such as restricting swimming areas, posting warning signs and fencing the perimeters of pools and waterways. Lifeguards are an essential part of these strategies, as a vast majority of drownings each year occur at unguarded locations.

Click here for more information on swim safety.
7. Snoqualmie Valley Transportation Summer Freedom Program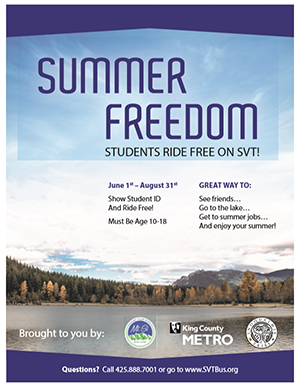 Every summer after school gets out, getting kids to and from their different activities can become more of a challenge. This year, kids age 10-18 will be able to use Snoqualmie Valley Transportation (SVT) for free from June 1st – August 31st. Thanks to SVT's "Summer Freedom" program, children will be able to get to their jobs and visit friends around the valley all summer. For information on routes and schedules, click here.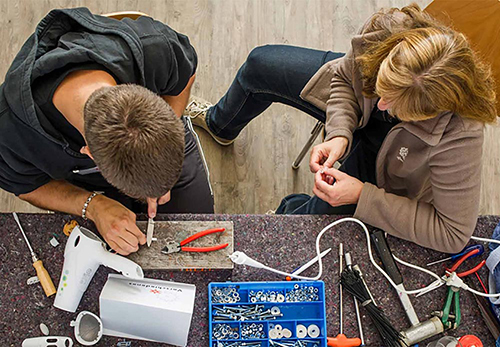 This summer, King County will be sponsoring three free community repair events in District 3. The county's experienced repair people, or "fixers," will work on your items, repairing or mending them if they can, and often giving you useful advice as well!

At these free community repair events, people bring in lamps, vacuums, fans, chairs, tables, tools, computers, music players, TVs, blenders, toasters, toys, pants, dresses, rugs, bags, and much more! (I had a purse fixed last time and have a suitcase ready for repair!)

Although you are encouraged to call or write in advance to discuss your repair, all these King County repair events are first-come, first-served, with no appointments or set times.

Here are the details for the three events in District 3:

• Wed. June 19, 2019, 3-6pm, Sammamish Library
• Sat. July 20, 2019, 12:30-3:30 pm, Sno-Valley Senior Center, Carnation
• Tues. Sept. 10, 2019, 3-6pm, North Bend Library

Click here to learn more.
9. Issaquah Mobility Master Plan survey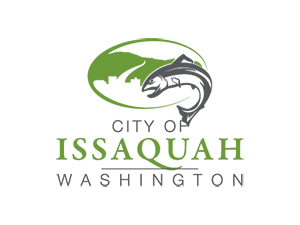 Do you have ideas for improving transportation in Issaquah? The city is currently seeking feedback from the community and collecting public comment on their upcoming Mobility Master Plan, which will guide the future of transportation in the city.

At this point, Issaquah is in the early stages of the project and they are working on solidifying the guiding principles in order to better prioritize projects based on what is important to the community.

Responses must be submitted by Friday, May 31st. Click here to fill out the survey, and thank you for your input: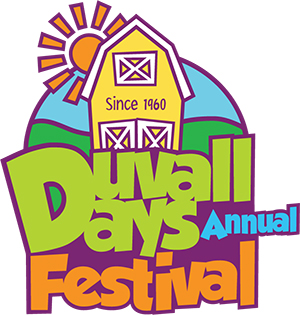 Come out to Duvall Days for a fun-filled family festival. The annual two-day event starts with a parade on Saturday, June 1, and the festival continues into Sunday afternoon. There will be lots of fun activities such as bingo, an obstacle course, a petting zoo, a 3v3 basketball tournament, live music, mini golf, fireworks, a marathon and 5k run, and more. To see the full schedule, click here.
11. Big Backyard 5K: Sunday, June 2 at 9 am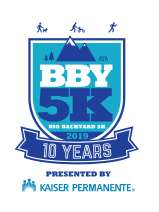 Join with friends, family, and fellow outdoors enthusiasts in a fun event that supports King County Parks – the 10th annual Big Backyard 5K, Sunday, June 2 at Marymoor Park. The run/walk will begin at 9am.

Founded in 2010, the Big Backyard 5K, also known as the BBY5K, is a 5K run/walk at King County's Marymoor Park. Proceeds from the BBY5K benefit King County Parks and brings the organization financial support for maintenance and operations of the park system. With your help over the years, we have raised more than $250,000 for King County Parks!

This year, there will be a 10K distance option to commemorate the 10-year anniversary of the event! Pick your distance and find your pace. Don't forget to stick around after your run/walk for a free Kids Dash and post-race festivities featuring drinks, food, music, and prize giveaways.

Click here to learn more.