December 2017
Dear Friends,
Happy Holidays to you, your family and friends. I hope you enjoy the many events associated with this time of year.

The council is preparing for a busy 2018 with many important issues on our calendar. One of the biggest will be the 2019-2020 budget deliberations. Then juvenile justice and solid waste issues will be on our main agenda.

Included in this newsletter is some practical information on preparing for winter with an emergency kit and safety information on donating to charities during the holidays. Please pass these tips on to keep your family and friends safer!

Itís always a pleasure to represent you and all of District 3.
Kathy Lambert
In this Issue:

1. Best Starts for Kids Blog - $ - Grants!
2. Shattering the Stigma
3. Get Ready for Winter
4. Woodburning Tips
5. Donít Let Scammers Ruin the Giving Spirit

Have a good idea to help children? Need a grant?

Please take a moment to read this blog and pass on the link to any organization in our district that serves children. Grants are being awarded and this is a great opportunity to access these funds.

Best Starts for Kids was passed by voters in 2015. It is now in the process of implementation and awarding of contracts. The BSK Blog is the place to go to find out what RFPs (Requests for Proposals) are currently available.

https://beststartsblog.com/
3. Get ready for winter: Whatís in your emergency kit?
King County Emergency Management officials recommend having an emergency supply kit on hand at all times. Makeitthrough.org, recommends keeping 7 to 10 days worth of the following:

Water: 1 gallon per person per day
Food: Non-perishables, 7 to 10 daysí worth, and a manual can opener
Cash: Small bills are best.
Battery-powered radio, flashlight, extra batteries
First aid kit
Whistle to signal for help
Mask or cotton t-shirt to help filter the air
Moist towelettes
Wrench or pliers to turn off utilities if needed
Shelter items like tents, tarps and rope
Garbage bags and plastic ties
Prescriptions, infant supplies, pet food. Items specific to your familyís needs. Supplies for infants, pets and elderly, prescriptions, and important family documents

Reprinted from the Snoqualmie Valley Record
'Tis the season to light up the fireplace. Curling up in front of a warm fireplace is one of the joys of the fall and winter season.

But before you light that fire, there are a few important safety tips to keep in mind. Every type of fireplace, whether wood-burning, gas, or electric, poses a potential danger to everyone in your home.

Here's how to keep the home fires burning - safely.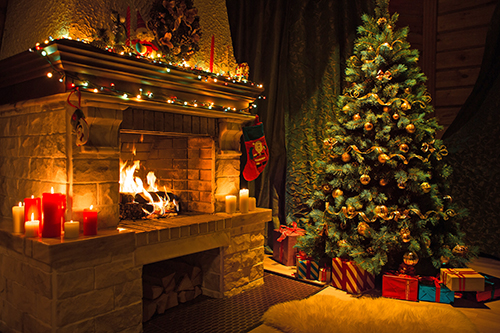 1. become a soot-stopper
Minimize the buildup of soot and creosote by using seasoned hardwood or manufactured logs. To minimize the buildup of soot and creosote (which can cause chimney fires), use seasoned hard wood or manufacturers logs, which burn even cleaner than real wood.

2. know about hot stuff
If you do use manufactured logs, be sure to follow the directions on the bag. These logs burn hotter than regular wood and can potentially warp metal chimneys if you burn more than one at a time.

3. burn only simple stuff
Only burn wood or manufactured logs in your fireplace. Fancy finishes - like glossy wrapping paper, shiny bows and foam peanuts - release toxic fumes. And never burn holiday greenery in the fireplace. It releases nasty fumes you don't want your family to breathe, too.

4. go for a slow burn
Though a roaring fire looks attractive, it's not as safe as a slower, steadier burn. Too-hot a fire can crack your chimney. Just a couple of logs at a time is best.

5. practice safe stacking
Position logs near the back of the fireplace to prevent fire and ashes from finding a way out of the hearth and into your home.

6. open the damper before you light your fire
Open the damper before starting a fire in the fireplace. Keep the damper open until the fire is completely extinguished.

7. open fireplace doors.
Open the fireplace doors (if your fireplace has them), and use a fireplace safety screen when you've got the fire crackling.

8. keep the area around the fireplace clear
Don't position your Christmas tree - or anything else - near the fireplace. Should embers spark out of the fireplace and into the room, you want to make sure there is nothing nearby that will catch fire.

9. don't leave a fire unattended
For safety's sake, never leave a fire unattended. Plus, you shouldn't go to sleep with a fire still burning.

10. open a window when you light a fire
Fires require about five times as much oxygen as a room usually needs. To make sure there's enough oxygen for the fire to burn efficiently, open a window when you light a fire.

11. clear the deck before you light up
If you drape your fireplace mantel with holiday garlands or hang stockings or cards from it, don't light a fire. These flammable items are too close for comfort.

12. keep a fire extinguisher handy

Thanks to www.clean-organized-family-home.com for this great information
5. Donít Let Scammers Ruin the Giving Spirit
Research organizations and ask plenty of questions before making donations.
By Washington State Attorney General Bob Ferguson

The giving spirit has long been a part of the holiday season.

Many feel inclined to donate, especially when charities tug on their heartstrings. Many of us want to help in whatever way we can. However, scammers can prey on this behavior and line their own pockets with your donation.

This doesnít mean that you should stop donating to organizations whose work is important to you. I will continue to use my office to stop bad actors in their tracks, protecting you and your hard-earned money.

While I work to find and prosecute lawbreakers, you can do a few things to prevent scammers from targeting you and your family.

One of the best ways you can protect yourself from getting scammed is by listening to what your teachers told you in grade school ó do your homework.

Any organization that requests or receives monetary donations or other items of value from the public must register with the Washington State Secretary of Stateís Office.

Before donating, make sure the organization that contacted you is registered with the Secretary of Stateís Office by visiting sos.wa.gov or calling the Charities Hotline at 800-332-GIVE.

A visit to the website can also tell you how your money will be spent. For registered charities, you can access financial records, which give you an idea of how the organization uses the money it receives, no matter what they tell you in person.

You can check the organizationís record with the Better Business Bureau (BBB), which requests an organizationís credentials, then analyzes and scores the charity in several areas, including governance, effectiveness and financial health. BBBís website, www.give.org, gives each organizationís score and gives you a chance to report misconduct.

Before you have a chance to research the organization, the best way to stop scammers is by asking questions.

Ask the solicitor what your donation will be used for, the types of programs they implement, who their organization helps or the benefits they have seen or expect as a result of their work.

The more a solicitor doesnít know the answers or dodges your questions, the more suspicious you should be.

Another red flag is aggressive behavior. Charitable organizations want you to want to help them achieve their mission. They feel passionate about their work and want you to feel that way, too. But donít confuse pressuring you for money with passion for a cause.

Scammers will want you to donate right away, before you get a chance to research the organizationís credentials. If the solicitor begins pressuring you to give money, setting hard deadlines for donations or aggressively seeking payment, walk away. You have most likely been contacted by someone seeking donations for their personal bank account.

Donít let scammers keep you from contributing to those in need. You should support the causes you care about, but you should also feel comfortable knowing that your money is going to the right place.

Do not feel guilty about turning down an organization ó you can always donate at a later time.

If you find yourself being contacted by a scammer, let us know about it. My Consumer Protection Unit is dedicated to finding and stopping scammers.

Report the organization to my office online at atg.wa.gov or over the phone at 800-551-4636.

The Office of the Attorney General is the chief legal office for the state of Washington with attorneys and staff in 27 divisions across the state providing legal services to roughly 200 state agencies, boards and commissions. Learn more about protecting yourself from scams targeted toward the elderly.

_______________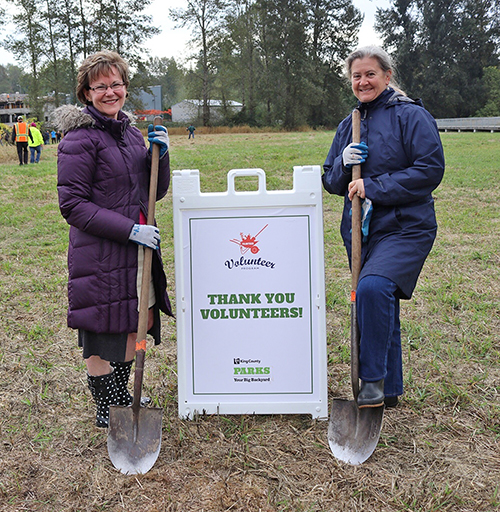 I was privileged to participate in a Million Tree Planting Event this fall at Marymoor Park.

Enjoy your holiday time!