MLK Award Recipient Doug Baldwin
On April 30th, the King County Council honored nine King County residents who have demonstrated leadership and service to their communities with the Martin Luther King Jr. Medal of Distinguished Service. I presented the District 5 medal to Seattle Seahawk Doug Baldwin.

Doug exemplifies community and servant leadership. He has been instrumental in the vision of the Family First Community Center in the Cascade/Benson Hill community in Renton, a public/private partnership between the city, school district and other community partners. He's also formed the "Building Bridges" task force, a collaboration with community leaders and attorneys to encourage the review of law enforcement training models.

Doug has shown himself to be a remarkable advocate and community organizer, and South King County is better for it.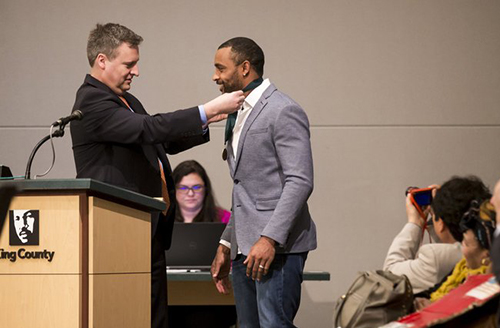 Seahawk Doug Baldwin received his MLK Medal of Distinguished Service from me on April 30th. Click on image to view video.
Prepaid Postage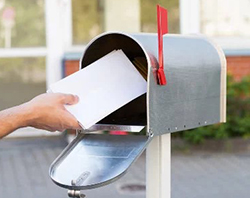 Increasing our accessibility to free and fair elections is central to our civic institutions. Through the leadership of the King County Elections Director, the King County Council passed a measure that will prepay the postage for all ballots in King County. Now, everyone's mailbox is also a ballot box.



Chinook Middle School Visit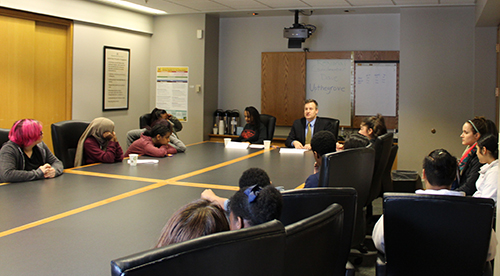 Students from Chinook Middle School joined me for the morning.

Earlier this month I had the pleasure of hosting Chinook Middle School students at the King County Council offices at the County Courthouse in Seattle.

The students had the opportunity to visit a courtroom and meet Superior Court Judge Inveen. They also heard from King County Metro, the Regional Animal Services of King County, and the King County Sheriff's Office about their work at the County. I even got to sit down with them to talk about civic engagement, what it means to be an elected official, and how the county impacts their lives.
Senior Center Visits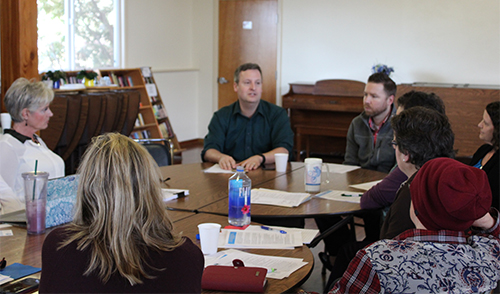 At a meeting with South King County Senior Center Directors last month.

This month, I met individually with five senior center directors at their community centers. The purpose of these meetings was to help connect them with upcoming funding opportunities through the Veteran's, Seniors and Human Services Levy. I learned about their unique programming, the critical role they play in the community and the immense benefits of socializing.

The County has just released this request for proposals. Funding would allow our senior centers to increase participation, update infrastructure, maintain their facility, or enhance programming. More information on this excellent opportunity can be found here. Applications for funding are due on June 7th, 2018.
HOME Program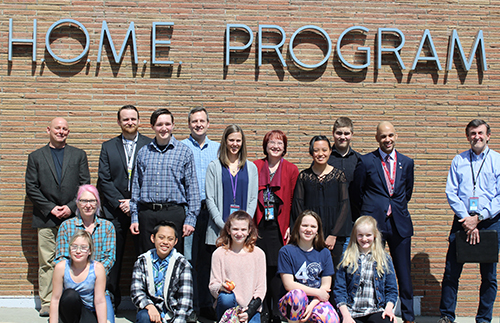 With HOME program participants and Renton Superintendent Pattenaude.

The H.O.M.E Program is a remarkable community of homeschooled students, and it is housed at the Renton Academy. They participate in the KC Green School Program, which provides support to schools and school districts as they practice resource conservation. There are four levels to the program, each of which has a different environmental stewardship focus. The H.O.M.E. program reached Level Two by instituting a recycling and energy saving program. I had a wonderful time touring their garden and learning about their plans to reach Level Three, which is all about water conservation!
Upcoming Events in District 5
King County and our Cities are hosting events across the county every day. Visit my website for a list of opportunities to connect with resources and enjoy all that South King County has to offer.

Please don't hesitate to contact me with any comments or concerns, I always appreciate hearing from you.

Sincerely,
Dave
King County Councilmember
District 5